Rhodium Top Stories

Five men's luxury watches unveiled ahead of Geneva watch show

The 24th edition of the Salon International de la Haute Horlogerie (SIHH), the luxury watch trade show held annually in Geneva, will take place this year January 20-24. An exclusive event open only to industry professionals, SIHH showcases the most prestigious timepieces headed for the market in the coming year. For watch lovers and collectors, we present ten of the most remarkable men's watches ...

NovX21 (Previously Pro-Or) Announces the Closing of a $3 million Private Placement

NovX21, previously Pro-Or , a technology company which operates a recovery plant for precious metals of the Platinum Group, is pleased to announce the closing of a previously announced $3 million private ...

Metals Stocks: Gold up, but improving flows don?t convince all

Gold prices move higher in electronic trading, building on last week?s gains.

Union Calls Strike by 90,000 South Africa Minerworkers

The South African union representing most workers at the world?s top three platinum companies and some of the largest gold mines in the nation has served notice that its members will go on strike over wages.

NanoStruck Announces Appointment of Brian Mok as Senior Mining Consultant

NanoStruck Technologies Inc. announces the appointment of Mr. Brian Mok as Senior Mining Analyst as a Consu

Asia emission control catalyst market forecast to increase by 8% CAGR during 2013 to 2018

The global emission control catalysts market is forecast to total US$8 billion by 2018 with the increasingly stringent regulations curbing greenhouse gas emission forecast to drive demand over the next.......

NanoStruck Appoints Emmanuel Moya as Vice President Technology

NanoStruck Technologies Inc. announces the appointment of Emmanuel Moya as Vice President, Technology on a consulting basis

Product review co Yotpo raises $10.7m

Yotpo will use the financing to hire staff for its Tel Aviv headquarters and US office in San Francisco, and to accelerate product development.

Top-Tier Platinum Producers Face Wage Strike in S. Africa

Lonmin Plc (LMI) and Impala Platinum Holdings Ltd. (IMP) , two of the world?s top three platinum producers, will start receiving strike notices within days after a South African union called for a stoppage over pay.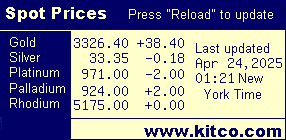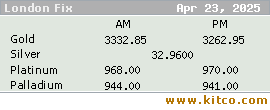 | | |
| --- | --- |
| | Latest Posts from Jim Rogers blog |
▪ Emerging Markets: ?You Should Think About Zimbabwe?
▪ Governments Will Abolish Cash Transactions
▪ My First Big Mistake In The Markets
▪ The US Dollar Will Lose Its Position As The World?s Reserve Currency
▪ Podcast: Emerging Markets & Geopolitics