Gold Top Stories

Randgold produces record gold as profit stung by price

Randgold Resources produced a record amount of gold last year, but a lower price meant earnings were below analyst expectations, the Africa-focused miner said on Monday. The London-listed firm, with gold mines in Ivory Coast and Mali, said it expected to produce in excess of 1 million ounces this year - meeting one of the miner's long-term targets. Randgold posted profit of $325.7 million on ...

Gold & Silver Market Morning

Gold Today ? The New York gold price closed almost unchanged at $1,244.90 at the close on Friday. Asia lifted it through to $1,247 before London fixed it at $1,246.50 the same as Friday.

Harmony Gold swings to loss, sees return to profit with weak rand

South African gold producer Harmony Gold posted a loss in the second quarter of its financial year, hit by a lower bullion price and production problems at its key Khusalethu mine. Its headline loss per share for the quarter to December was 21 South African cents compared to a profit of five cents in the previous quarter. Harmony said it was positioned to benefit from a higher rand gold price as ...

Gold miners live on the edge

Sweeping cost reforms to tackle a weak bullion price have failed to totally insulate WA's mid-tier gold miners, with only a handful managing to secure decent margins over the December quarter.

Gold rises as manufacturing survey disappoints

Gold rose after a survey showed that manufacturing in the U.S. barely expanded last month, casting doubt on the health of the U.S. economy. The price of gold for delivery in April rose $20.10, or 1.6 percent, ...

Gold Prices Began to Stabilize After Fed Announced Taper, World Gold Council Says

NEW YORK (TheStreet) -- The World Gold Council said Monday that gold prices began to stabilize after the Federal Reserve in December announced it would scale back its economic stimulus program. The Fed at the end of 2013 announced that it would scale back its asset purchases by $10 billion, and again in January cut back purchases by another $10 billion, leaving the program at $65 billion a month ...

Gold Price and Silver Price Struggle at Key Trendlines

Gold Price and Silver Price Struggle at Key Trendlines

Last Week?s Top Gold Movers: Centamin PLC, Highland Gold Mining Ltd and Patagonia Gold plc

Centamin PLC (LON:CEY), Highland Gold Mining Ltd (LON:HGM) and Patagonia Gold plc (LON:PGD) underperformed the price of gold.

Harmony Gold Swings to Loss as Output Declines and Bullion Drops

Harmony Gold Mining Co. (HAR) , South Africa?s third-largest producer of the metal, made a loss in the second quarter as the price of bullion declined and output fell.

Gold headed for first weekly decline in 2014

We might well be about to see the gold price take its first weekly fall since Christmas, as bears get over-excited about Fed tapering and emerging market troubles ease off, prompting the yellow metal to lose some of its safe-haven appeal.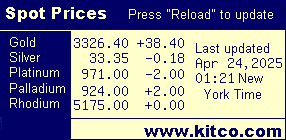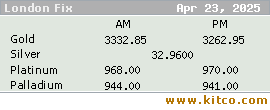 | | |
| --- | --- |
| | Latest Posts from Jim Rogers blog |
▪ Emerging Markets: ?You Should Think About Zimbabwe?
▪ Governments Will Abolish Cash Transactions
▪ My First Big Mistake In The Markets
▪ The US Dollar Will Lose Its Position As The World?s Reserve Currency
▪ Podcast: Emerging Markets & Geopolitics